Separating tungsten from sandstone ore using sawtooth jig machines and 6S concentrating table? There are two types of tungsten placer – weathered tungsten minerals found in river sand and tungsten placer minerals. As a result, tungsten placer with a higher degree of natural weathering decomposition and dissociation than raw ore is essentially fine particles.
By using a jaw crusher, cone crusher, sand making machine, and other sand-making equipment, rock ore is transformed into sand particles. Despite the lack of complete dissociation, the proportion of nonparticles is still much higher than that of ordinary gangue, and their separation methods are similar.
What should be done with the tungsten sand in the mechanism sand field?
Generally, machine-made sand contains low-grade tungsten. Even if the wolframite ore is simply separated, there will be little benefit. Since sand and stone prices have risen in recent years, recovering low-grade tungsten ore offers better benefits. In these two raw materials, tungsten placer ore is mainly roughed with sawtooth wave jigs and cleaned with 6S shaking tables. The engineers and technicians of Dasen mining machinery equipment Co., Ltd have performed countless tests to achieve high recovery rates with a three-stage jig machine.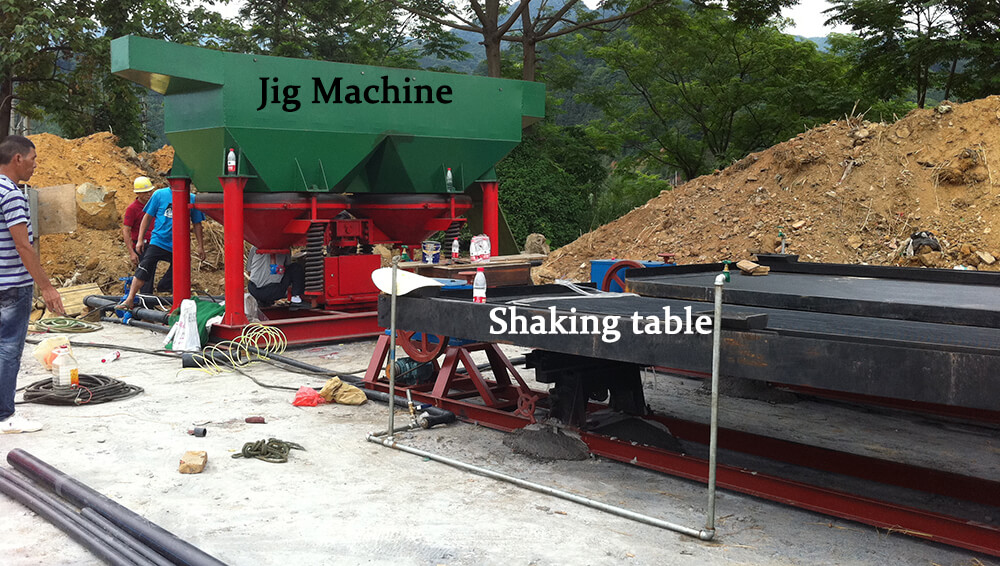 When you don't pursue a high recovery rate, you can directly recover it with a felt chute or a blanket machine, but the recovery rate is poor, about 30% – 40%. With modern technology, especially with the appearance of sawtooth jigs, the mineral separation performance on medium and coarse particles has greatly improved, and the extraction of tungsten, tin, and gold from sand particles has become much easier. In the sand field, heavy minerals can be separated using a variety of methods. As a result of our continuous exploration and analysis, we believe that the sawtooth wave jig is a piece of excellent equipment for recovering medium tungsten Placer in the sand field.
6S concentrating table are excellent in selecting low-grade minerals because of their efficiency, high recovery, and ease of operation and management.
You can send us a private letter if you don't know anything about the shaker's malfunction : Whatsapp:+8613319277356, Email:[email protected]
We will have professional technicians to solve the problem for you.
https://dasenmining.com/wp-content/uploads/2022/03/钨矿.jpg
720
1280
Dasen
https://dasenmining.com/wp-content/uploads/2021/06/logo.png
Dasen
2022-03-03 07:23:41
2022-03-28 08:52:22
What about a jig and a concentrating table for tungsten placers?