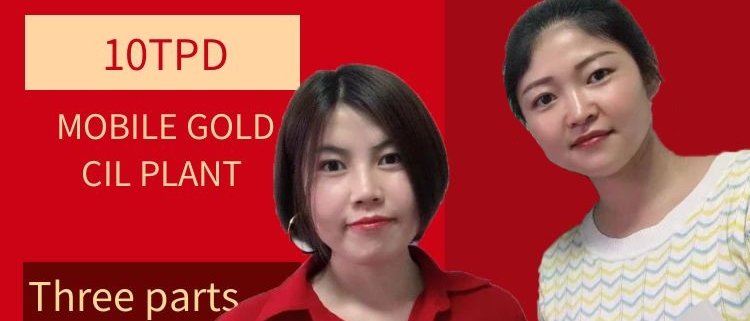 Rose: Hello, everyone, good day, today I am going to introduce a cil carbon in leach to you, it is very popular recently.
Niko: Oh, what is that?
Rose: Er, it is a gold CIL plant, it is mobile
Niko: It can be mobile? That is great, can you show it?
Rose: Yes, please see these pictures
Niko: Oh, there seem to be three parts.
Rose: Yes, there are three parts. The first part is crushing and grinding, including crushers, ball mill, hydrocyclone, belt conveyors, hopper. The second part is thickening and leaching, including thickener, leaching tanks. The third part is desorption electrolytic system.
Niko: OK, how can they move? by trailer?
Rose: Yes, all the machines can be installed in containers or steel frames before we ship them, they can be moved on trailers
Niko: Good, finishing installation before shipment can save much time and work at the mine site
Rose: Yes, plant can be operated at the mine site after simple connection
Niko: so, what capacity is this plant?
Rose: It is 10 tons per day, ensuring the better leaching effect.
Niko: Is there any difference from the big cil carbon in leach?
Rose: No, it is the same process, the recovery rate is also more than 90%. We can do the leaching experiment with 20-30kg sample first.
Niko: Great……it is suitable for the gold miners who build gold leaching plant at first time.
Rose: Yes, you are right, it is with low investment, according to your mineral content, generally expected that you can recover the cost within two months' production. It is a pilot scale test plant before you build a large CIL plant. By using this plant first, you will be much clear about your gold ore, it helps to avoid risk when you build the large gold CIL plant.
Niko: OK, good……
Rose: Yes, you can still operate this plant when you build the large CIL plant, getting some return at the same time.
Niko: Yes, right, for this small plant, do you also dispatch technicians for the commissioning and training?
Rose: Yes, absolutely, we will train people how to operate it until they can operate by themselves, will teach all the details of this plant
Niko: OK, so the final product is gold ingot?
Rose: Yes, we get gold ingot from this plant.
Niko: OK, how about the price?
Rose: About the price, I will e-mail you.
Rose: Anyone has interests in this plant, please contact me by my e-mail, Whatsapp, or phone.
Thanks for your watching, good-bye.
We can provide you with more information about the gold CIL plant. If you have any questions, please contact: Whatsapp:+8613319277356, Email:[email protected]
https://dasenmining.com/wp-content/uploads/2021/07/10吨.jpg
950
750
Dasen
https://dasenmining.com/wp-content/uploads/2021/06/logo.png
Dasen
2021-07-05 09:17:44
2022-04-12 07:55:27
New video"10 Ton Per Day mobile cil carbon in leach"