Description
Name: SF flotation machine,froth flotation machine
Uses: beneficiation, mineral selection
Feed particle size: 1-2mm
Processing capacity: 2-100T/H
Single tank volume: 0.37-20 tons / tank
Power: 1.5-45kw
Minerals can be separated from non-ferrous metals, ferrous metals, non-metallic minerals, and chemical raw materials using an SF froth flotation machine. The device has the following characteristics: high suction capacity and low power consumption. The cells have three functions: air suction, pulp suction, and flotation. It does not require any auxiliary equipment to form a flotation circuit. Horizontal configuration simplifies process changes. Slurry circulation is reasonable, which reduces coarse sand sedimentation.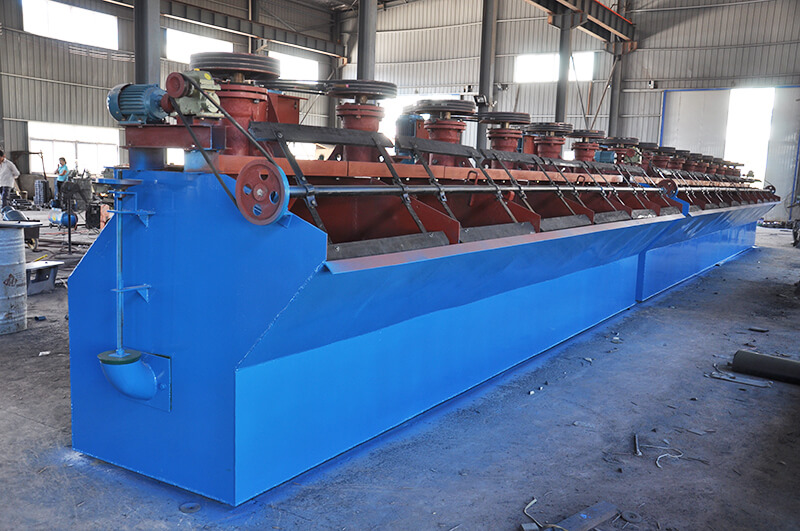 Working Principle:
In the slurry tank, when the ground ore is mixed with water and reagents through the mixing tank at the time of grinding or after grinding, air is introduced into the slurry to form a large number of bubbles. Mineral particles that are not easily wetted by water, i.e. hydrophobic particles, attach to the bubbles and float to the surface of the slurry as a mineralized bubble layer, while others are easily wetted by water. Thus, the particles of minerals generally called hydrophilic do not attach to the bubbles, but remain in the pulp to discharge the mineralized bubbles containing specific minerals to achieve the purpose of mineral processing.
With automatic control device for pulp surface, it is easy to adjust. The impeller has backward inclined upper and lower blades, the upper blade generates slurry circulation up and the lower blade generates circulation down.
By rotating the impeller, the pulp in the upper and lower impeller cavities generates centrifugal force under the action of the upper and lower blades and is thrown around, forming a negative pressure zone in the upper and lower impeller cavities. The slurry at the upper part of the cover plate is sucked into the upper impeller cavity through the hole on the cover plate to form a slurry upper circulation. Whenever the lower blade throws out pulp all around, its lower pulp supplements the center, forming the lower circulation. Air is pulled into the upper impeller cavity through the suction pipe and the central cylinder, and mixed with the sucked slurry to form a large number of small bubbles. After steady flow through the cover plate, the air is evenly dispersed in the tank to form mineralized bubbles. Mineralized bubbles float up to the foam layer and are scraped off by the scraper to form foam products.
Model
Effective

Volume

(m³)

Capacity

(m³/min)

Diameter of impeller

(mm)

Impeller

Revolution

(r.p.m)

Motor power

For agitation

(kw)

Motor power

For scraper

(kw)

Weight of

Single tank

(kg)

SF-0.37
0.37
0.2-0.4
300
352-442
1.5
0.75
470
SF-0.7
0.7
0.3-1.0
350
400
3
1.1
970
SF-1.2
1.2
0.6-1.2
450
312
5.5
1.1
1400
SF-2.8
2.8
1.5-3.5
550
268
11
1.5
2242
SF-4
4
2.0-4
650
235
15
1.5
2600
SF-8
8
4.0-8
760
191
30
1.5
4292
SF-16
16
5.0-16
850
169-193
45
1.5
7415
SF-20
20
5.0-20
760
186
30X2
1.5
9823
Structural Characteristics of SF Froth Flotation Machine
1. It is equipped with backward inclining double-sided blades for double slurry circulation in the tank;
2. A large clearance exists between the impeller and the cover plate, as well as a large suction capacity;
3. Low circumferential speed of impeller and long wear life of wearing parts;
4. Foam movement is rapid in a forward inclined tank with a small dead angle.
Product Advantages:
1. Compared with conventional mechanical stirring flotation machines, it can save 1/3~1/2 of electricity.
2. High separation accuracy and low ash content of clean coal The ash content of clean coal can be reduced by 1~2% compared with the conventional mechanical stirring flotation machine.
We can provide you with more information about Gold Ore Plant Solution. If you have any questions, please contact: Whatsapp:+8613319277356, Email:[email protected]