Description
Name: mixing tank, chemical mixing tanks, stainless mixing tanks, industrial mixers
Product use: mixing and mixing pulp Product material: conventional manganese steel, can be customized
Motor power: 5.5kw
Feed particle size: 1-100mm
Processing capacity: 3-800T/h
Stirrer diameter: 240-850mm
Effective volume: 0.26-30m³
Structure: right-angle blowing valve, reducer coupling, motor, beam bracket, stirring impeller, main shaft, circulation (barrel) tank and other structures.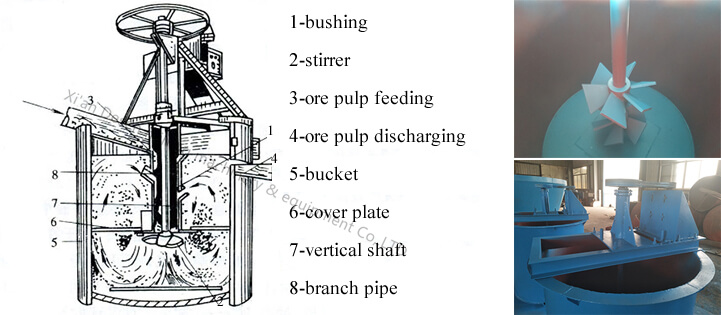 Working Principle:
Mixing drums are necessary to enable rotation of the impeller driven by the motor V-belt in order to mix the medicine and pulp evenly, as well as to speed up the reaction time of the medicine and strengthen the quality of its reaction. The mixing tank is suitable for mixing all types of metal ores, mainly used for mixing before flotation. The stirrer is designed to stir pulp whose concentration does not exceed 30%, whose density does not exceed 3.5, and whose particle size is not greater than 1mm.
Mixing tank is widely used in mining field, especially in concentrator. It is one of the commonly used equipment.
1. Effect of Mixing
There are generally five purposes of mixing;
(1) Mixing two or more liquids to obtain a uniform mixture;
(2) Mixing and dispersing two or more immiscible liquids to obtain emulsion;
(3) Mixed gas and solution;
(4) Suspend solid particles in solution;
(5) Accelerate chemical reaction, heat and mass transfer, etc.
Mixing is an essential step in metal and non-metal beneficiation, hydrometallurgy, rare and precious metal leaching and extraction.
2. Structure of mixing tank
The mixing tank is mainly composed of the following parts:
(1) The container containing the stirred slurry, namely the mixing tank;
(2) The main shaft part is a rotating vertical shaft with agitator (mixing wheel)
(3) Motor and transmission device (divided into belt transmission and reducer transmission);
(4) Auxiliary components, including support beam, feed and discharge pipe, baffle on the wall of diversion and rectification circulating device (circulating cylinder), etc.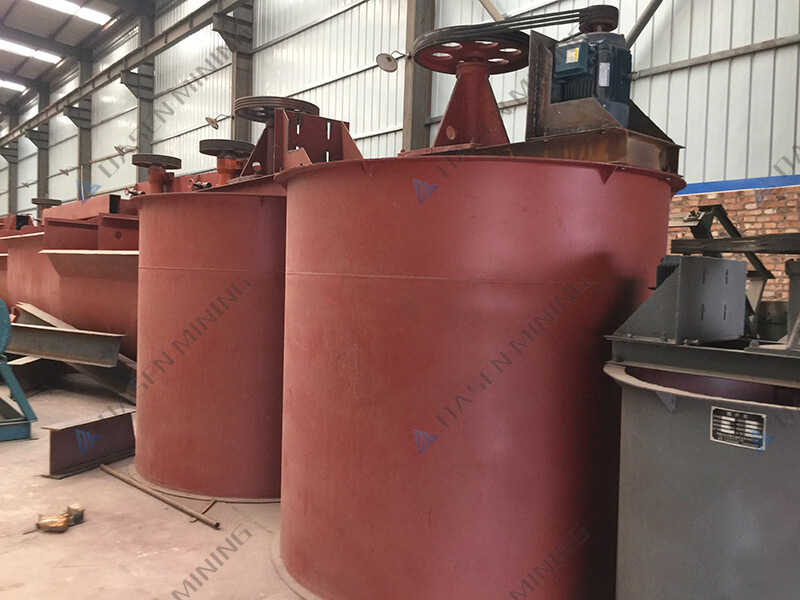 Instructions for use
1. Check the rotation of the shaft substitute wheel before using the mixer, and then tighten the bolts of the pump body before use; other procedures are the same as with the flotation machine;
2. Wearing parts: impeller, stator;
3. The mixer and automatic feeder should be cleaned inside, especially in winter, to prolong their life.
Product Advantages:
(1) Stirring is strong and uniform, the solid phase does not segregate or sink, and the mineralization effect is good.
(2) The structure is compact, the quality of the finished product is stable, the operation is easy, and the utilization rate is high.
(3) The stirring wheel and the diversion and rectification device are made of advanced wear-resistant materials with a long service life.
(4) The tank can be started directly without unloading after the system has been stopped, so the pulp does not lose its moisture and the labor intensity is reduced;
(5) Reduced energy consumption and dosage of oil and medicine, uniform dispersion and uniform dispersion of oil and medicine are about 20-40% and 20% respectively compared with conventional stirring tanks;
Model

Internal size of trough

Effective

Volume

(M³)

Stirrer

Motor

Dimension(mm)

Weight

(kg)

Dia

Height

Dia(mm)

Speed(r/min)

Model

Power(kw)

Length

Height

RJ05

500

500

0.078

150

690

Y80M2-4

0.75

720

874

110

RJ07

750

750

0.26

240

530

Y90L-4

1.5

939

1241

228

RJ10

1000

1000

0.58

240

530

Y90L-4

1.5

1080

1665

350

RJ12

1200

1200

1.14

400

320

Y132S-6

3

1540

1858

765

RJ15

1500

1500

2.2

400

320

Y132S-6

3

1690

2771

1360

RJ20

2000

2000

5.5

550

230

Y132M2-6

5.5

2381

3046

1655

RJ25

2500

2500

11

625

230

Y160M-6

7.5

2881

3546

2766

RJ30

3000

3000

19.1

900

210

Y225S-8

18.5

3266

4325

4296
We can provide you with more information about Gold Ore Plant Solution. If you have any questions, please contact: Whatsapp:+8613319277356, Email:[email protected]