Description
Name: flotation machine, mechanical flotation cell
Uses: beneficiation, mineral selection
Model: XJK,A,XJ
Feed particle size: 1-2mm
Processing capacity: 4-200T/H
Single tank volume: 0.35-2.43 tons / tank
Power: 1.5-11kw
Applicable materials: non-ferrous metals such as copper, lead, molybdenum and gold, black metals and non-metallic minerals.
Structure: This machine is mainly made up of a pulp tank, a stirring device, an aeration device, a discharge mineralization bubble device, and an electric motor.
The XJK (Type A) series mechanical flotation cell is an old-fashioned self-priming flotation machine. Flotation machines of this type can reduce the grade of ore and select high-grade concentrates, especially for fine-grained ore.
This series of flotation machines have a large air volume, a large production capacity, a simple structure and easy maintenance. The impeller and cover plate are made of wear-resistant rubber or polyurethane.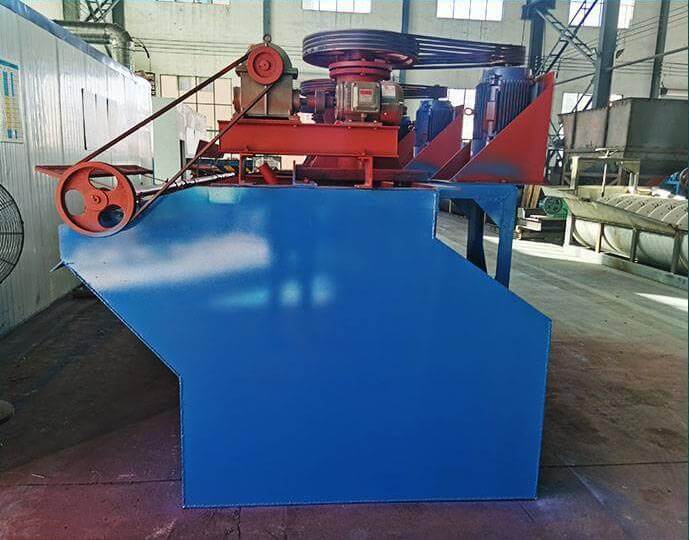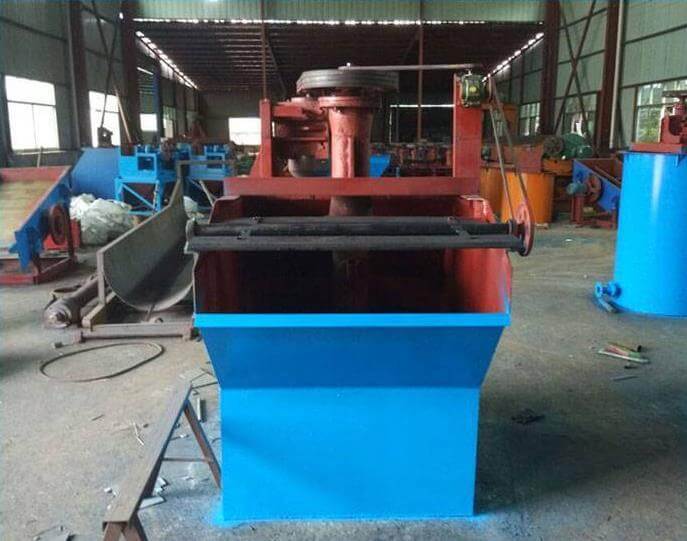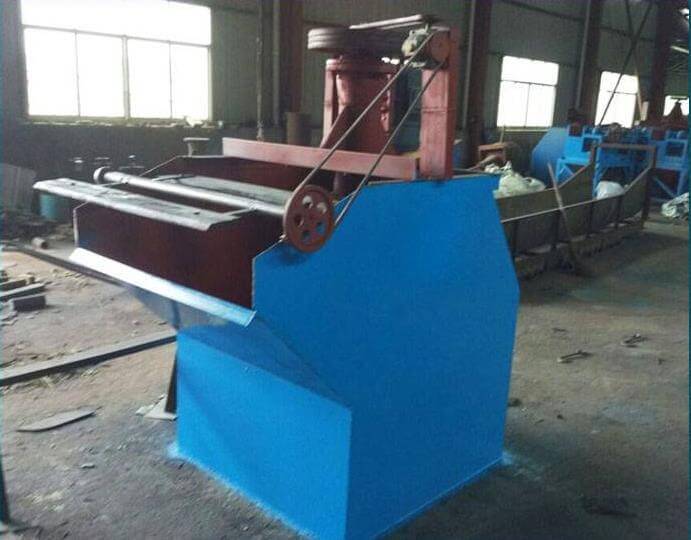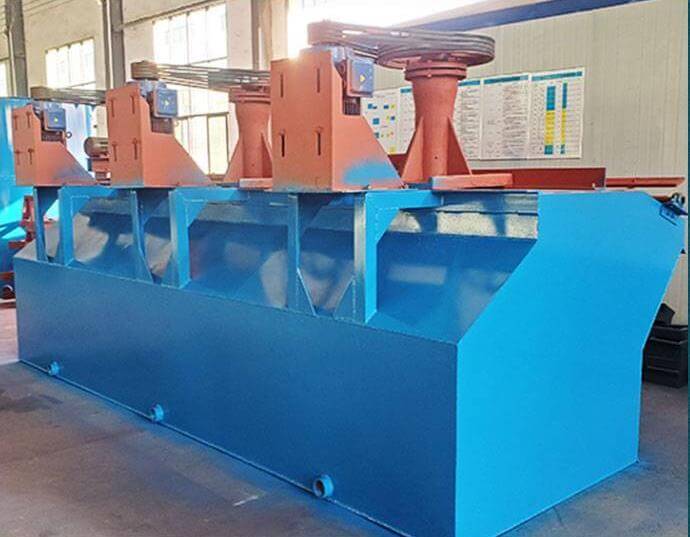 Working principle
The XJK-type mechanical flotation cell comprises two tanks, the tank is equipped with a slurry feeding pipe to suction the pulp, also known as a suction tank; this tank is a self-flowing tank or a straight-through tank. An intermediate chamber is located between the grooves, the pulp is connected below the chamber, the impeller is installed on the lower end of the main shaft, and the upper end of the shaft is provided with a pulley, which is driven by a motor. The air is inhaled through the intake pipe, the pulp level in each group of flotation cells is adjusted by the gate, and the air cylinder (also known as the vertical pipe) and cover plate are located above the impeller. On the air cylinder are holes for installing the slurry feeding pipe, the middle ore return pipe, or for circulation of the slurry. These holes can be adjusted using the pull rod.
Model
Volume(m3)
Impeller

Diameter(mm)

Capacity(m3/min)
Impeller rotating speed(r/min)
Transmission

motor

Scraper motor
Power(kg)
Inside dimension(mm)
Weight(kg)
model
Power(kg)
model
XJK-0.13
0.13
200
0.05-0.16
593
Y90L-4
1.5
Y80M2-4
0.75
504*520*700
266
XJK-0.23
0.23
250
0.12-0.28
504
Y100L-4
3.0
Y80M2-4
0.75
604*620*820
389
XJK-0.35
0.35
300
0.15-0.5
500
Y90L-4
1.5
Y80M2-4
0.75
700*700*906
430
XJK-0.62
0.62
350
0.3-0.9
400
Y132S-6
3.0
Y90L-6
1.1
820*900*1156
630
XJK-1.1
1.1
500
0.6-1.6
330
Y132M2-6
5.5
Y90L-6
1.1
110*1100*1269
1300
XJK-2.8
2.8
600
1.5-3.5
280
Y160L-6
11
Y100L-6
1.5
1750*1600*1450
2325
XJK-5.8
5.8
750
3.0-7.0
240
Y200L-6
22
Y100L-6
1.5
2200*2200*1200
3533
Advantage:
1. Separation accuracy is high, clean coal ash content is low, and yield is high, especially for difficult coal separation. In comparison with the conventional mechanical stirring flotation machine, the clean coal ash content can be reduced by 1*2%.
2. High processing capacity, and low running costs.
3. The flotation cell is easily maintained and repaired since there are no moving parts.
Features:
Low power consumption and large suction volume. Each tank functions as a suction, slurry suction, and flotation unit, forming a flotation circuit by itself, without auxiliary equipment. The horizontal configuration is convenient for process changes. It has an automatic control device for the pulp surface, which allows it to be adjusted easily. It has a reasonable pulp circulation, which can minimize the sedimentation of coarse sand. The pulp is circulated by the upper and lower blades of the impeller. The upper blade causes an upward circulation, and the lower blade causes a downward circulation.
The XJ-1, XJ-2, and XJ-4Y take four slots and six slots as basic slots, of which the XJ-1 and XJ-2 take two slots as motor bodies, the XJK-3A, 4A, 5A, 6A take two, four, the six tanks are the basic tanks. The XJK-11 uses one, two and four basic tanks, which are connected to form a series of flotation machines that can perform coarse, fine and sweeping operations.
We can provide you with more information about Gold Ore Plant Solution. If you have any questions, please contact: Whatsapp:+8613319277356, Email:[email protected]