Description
Name: Compound Crusher
Motor power: 11-160kw
Feed particle size: ≤1200mm
Production capacity: 5-280t/h
Scope of application: Widely used in mining, metallurgy, cement, sand making, and fine crushing of various materials with compressive strengths less than 150MPa.
The PwC series compound crusher is a new type of crushing equipment developed by our company, which is widely used in building materials, mining, metallurgy, chemical industry, and other industries to crush medium-hard materials with a compressive strength 150MPa. The product combines the advantages of impact crushers and hammer crushers, with a reasonable structure, stable performance, large crushing ratio, good discharge particle size, high output, low energy consumption, and easy maintenance. Unlike traditional two-stage crushing, it can perform coarse, medium, and fine crushing of limestone in one step. It is an ideal choice for users since it requires little investment in civil engineering and equipment.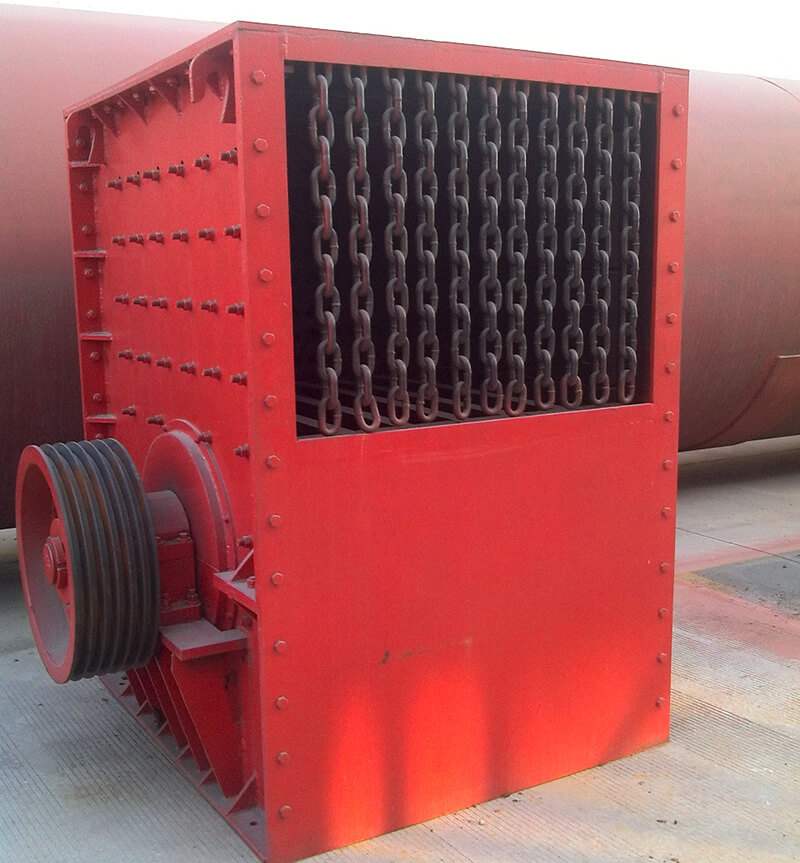 Working Principle:
A V-belt drives the crusher rotor. High-speed circular motion is produced by the rotor driving the hammerhead. When the material enters the crushing chamber, it is hit by the high-speed rotating hammer head and broken. The large blocks of special materials fall onto the middle support bar. When they are hit by the hammerhead for many times, they are crushed into small pieces and fall into the lower part. Following crushing, the materials with particle size greater than the requirements are crushed again along the tangent direction of the hammerhead with the new materials, so that the coarse, medium and fine crushing can be completed in one step. Finally, the qualified materials are discharged through the sieve plate hole.
Features:
Gas shielded welding and vibration failure processes are used to weld the body, which makes the structure stronger.
The transmission parts are processed by CNC centers and quenched and tempered, so they have a higher degree of toughness.
After surfacing, the hammer disc's surface is more wear-resistant due to its high-toughness material.
High-chromium alloy is used in the hammer head because of its superior wear resistance and tensile strength.
The sieve plate and guard plate are made of alloys that are anti-wear and impact-resistant, so they are more resistant to wear.
Improved appearance design and improved internal quality result in superior performance.
| | | | | | |
| --- | --- | --- | --- | --- | --- |
| Model | Max feeding Size(mm) | Discharging Size(mm) | Capacity (t/h) | Motor Power(kw) | Weight (t) |
| PWC600*400 | <200 | <0-40 | 10-15 | 11 | 1.5 |
| PWC800*600 | <300 | <0-40 | 15-20 | 18.5 | 2.8 |
| PWC900*600 | <400 | <0-40 | 20-30 | 37 | 3.7 |
| PWC1000*800 | <500 | <0-40 | 20-40 | 55 | 5.3 |
| PWC1000*1000 | <500 | <0-40 | 40-50 | 75 | 5.8 |
| PWC1000*1200 | <550 | <0-40 | 50-75 | 90 | 6.5 |
| PWC1100*1300 | <600 | <0-40 | 70-90 | 132 | 6.8 |
| PWC1200*1200 | <600 | <0-40 | 90-100 | 160 | 8.6 |
| PWC1200*1500 | <600 | <0-40 | 100-130 | 185 | 13 |
| PWC1400*1300 | <900 | <0-40 | 100-150 | 75*2 | 14.7 |
| PWC1400*1400 | <900 | <0-40 | 150-200 | 90*2 | 15 |
| PWC1500*1500 | <1000 | <0-40 | 200-270 | 110*2 | 18 |
| PWC1600*1600 | <1000 | <0-40 | 200-350 | 132*2 | 27 |
| PWC1800*1800 | <1200 | <0-40 | 350-400 | 160*2 | 39 |
We can provide you with more information about Gold Ore Plant Solution. If you have any questions, please contact: Whatsapp:+8613319277356, Email:[email protected]