Description
Product Name: jaw crusher
Feed size: 125-1020cm
Production capacity: 10-800 (T / h)
Power: 37-710kw
Classification: single swing jaw crusher, compound swing jaw crusher
Performance features: it has the characteristics of large crushing ratio, low use and maintenance cost, low power consumption, reliable performance and so on.
Applicable materials: suitable for crushing hard materials (compressive strength < 300mpa), limestone, gold ore and other more than 200 minerals.
Structure: composed of static jaw plate, movable jaw plate, frame, upper and lower guard plates, adjusting seat, movable jaw pull rod, etc.
A jaw crusher is commonly used for production in concentrators or gravel plants in practical applications. A jaw crusher's low cost and high efficiency make it a good alternative to other crushers. Quartz, bluestone, river pebbles, cobbles, limestone, iron ore, and other stones are widely processed and crushed in mining, metallurgy, chemical industry, construction, and other industries.
Working Principle:
As the jaw crusher works, the motor drives the pulley to rotate the eccentric shaft, so that the moving jaw periodically approaches and leaves the static jaw, which results in multiple crushings as the materials enter the crushing chamber, such as extrusion, rubbing and grinding, so that the materials change from large particle size to small particle size, and fall gradually until the particle size meets the requirements and is discharged from the crusher.
Advantages:
A jaw crusher's crushing cavity has a V-shaped deep cavity, which can increase the jaw crusher's feeding capacity and output to a certain extent. Small jaw crushers also have certain advantages over other crushers. Additionally, the jaw crusher has a new flywheel design that can reduce the vibration of the machine and ensure smooth operation. Further, the jaw crusher uses high-quality steel plate welding, which can not only ensure its smooth operation, but also effectively prevent casting defects, so that it can prolong its operating life.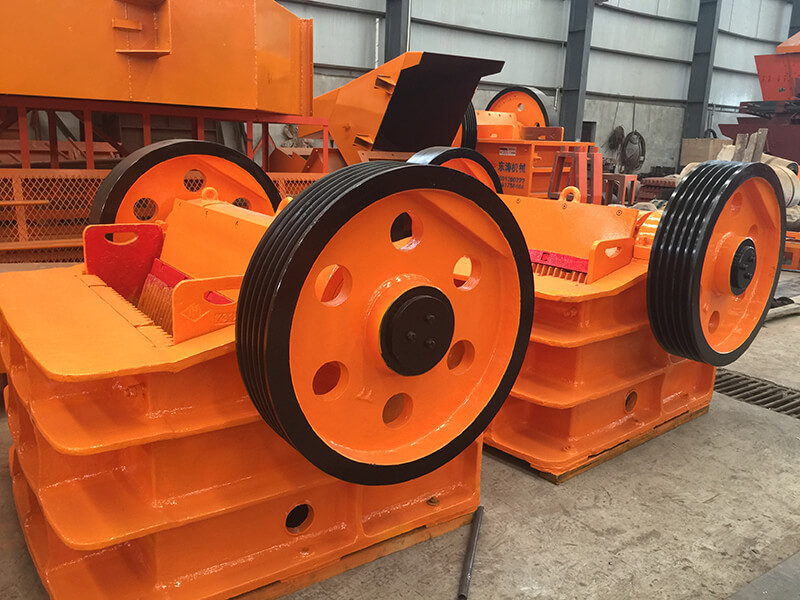 Characteristic
Low noise and less dust.
Its crushing ratio is large and the particle size of the product is uniform.
Low cost and reliable operation.
The lubrication system is safe and reliable, the replacement of parts is convenient, and the maintenance of equipment is simple.
The crushing cavity is deep and has no dead zone, which improves the feeding capacity and output.
Saving energy of equipment: the energy saving of each machine is 15% + 30%, and the energy saving of the entire system is more than twice as much.
The adjustment range of discharge port is large, which can meet the requirements of different users.
Jaw Crusher Classification:
There are different types of jaw crushers based on the swing modes of the movable jaw plate. Simple swing jaw crushers are also called simple pendulum jaw crushers. There are three types of complex swing jaw crushers (complex swing jaw crushers) and comprehensive swing jaw crushers.
Depending on the width of the feeding port, it is divided into three types: large, medium, and small. Large machines have feeding ports with a width greater than 600MM, medium machines have feeding ports between 300-600MM, and small machines have feeding ports smaller than 300MM. Jaw crushers are simple in structure, easy to manufacture, reliable in operation, and easy to maintain.
Jaw crushers have different structure types, but their working principles are basically the same, but the movable jaw's trajectory differs. In short, when the movable jaw plate periodically reciprocates around the suspension shaft to the fixed jaw plate, sometimes approaching and then moving away, it crushes the ore between the two jaw plates by the combined action of crushing, splitting, bending and breaking, and when the movable jaw plate leaves the fixed jaw plate, it discharges the crushed ore through the ore discharge port.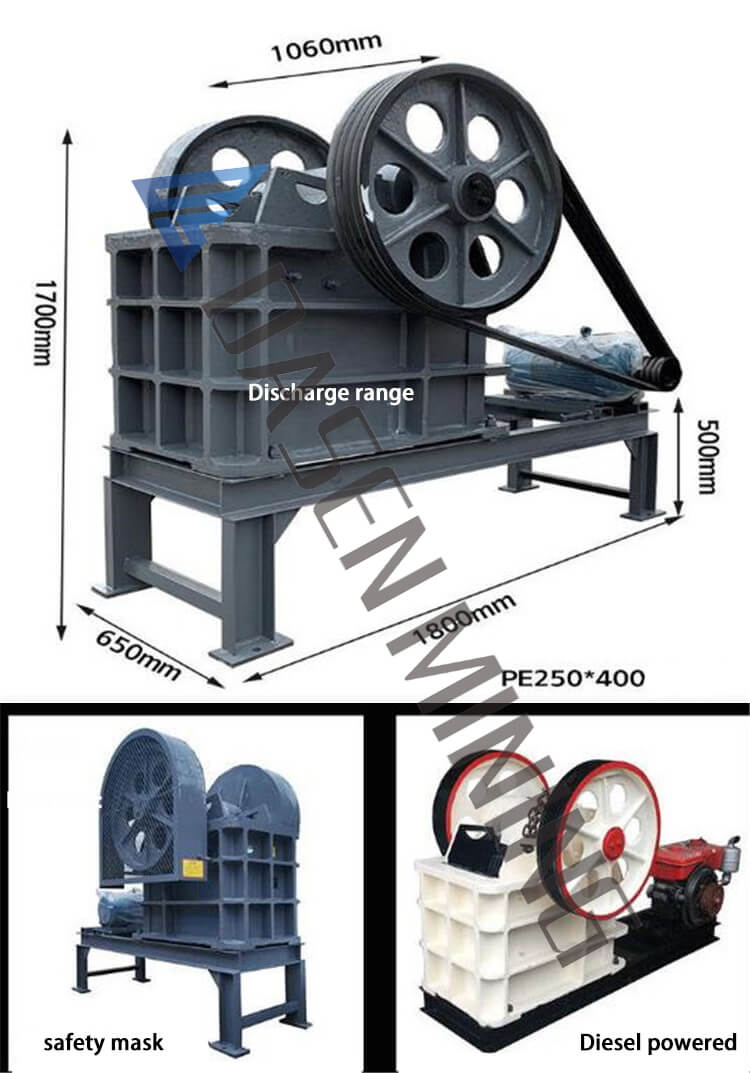 | | | | | | | |
| --- | --- | --- | --- | --- | --- | --- |
| Model | Feeding open size(mm) | Max feeding size(mm) | Discharging size(mm) | Capacity(t/h) | Motor(kw) | Weight(t) |
| PE150*250 | 150*250 | 125 | 10-40 | 1-3 | 5.5 | 1.1 |
| PE250*400 | 250*400 | 210 | 20-60 | 3-13 | 15 | 3 |
| PE400*600 | 400*600 | 340 | 40-100 | 15-40 | 30 | 6 |
| PE500*750 | 500*750 | 425 | 50-100 | 20-70 | 55 | 11 |
| PE600*900 | 600*900 | 520 | 65-130 | 50-150 | 75 | 18 |
| PEX150*750 | 150*750 | 120 | 10-40 | 8-35 | 15 | 3.35 |
| PEX250*1000 | 250*1000 | 210 | 25-60 | 10-40 | 30-37 | 6.5 |
We can provide you with more information about Gold Ore Plant Solution. If you have any questions, please contact: Whatsapp:+8613319277356, Email:[email protected]