Description
Name: 2.3*12m large cylinder washing machine, new type rotary scrubber, drum washing machine, drum washer
Feeding particle size: <200mm
Motor power: 30kw*4 sets
Production capacity: 200-300t/h
Equipment weight: 31t
Application: Used in the cleaning process of minerals such as manganese, iron, limestone, tungsten, tin, and silica sand.
Washing machine drum use rotating cylinders and internal scrapers, in addition to pebbles and rocks naturally found in the material, to break down clay, lumps, and soft oxides. The washer's drum rotates slowly, similar to a giant washing machine. When materials of different thicknesses and water are rolled and stirred together simultaneously, useful minerals are released from muddy soil and clay. Upon uniform dispersion, the slurry-like material is sent to the tail end by the cylinder and discharged from the overflow port to the conical screen for screening. Conical screens remove materials larger than the particle size of useful minerals, and the slurry under the screen can directly enter various mineral processing equipment.
Advantages
The particle size of the product is uniform. As a result of the elongated drum, the material stays long and can be fully and powerfully dispersed.
Strong washing ability and large processing capacity. Heavy-duty bearings, gears and rollers, high output motors, and gear systems create torque.
Low failure rate. The structural clearance of components is adjusted reasonably, and there is no strong vibration during operation, which reduces the failure rate of the whole machine and increases its service life.
The feed particle size is large—feed particle size up to 200mm.
Good energy-saving and less investment. Compared with similar products, it uses less power, saves energy, has a simple structure, is safe to use, reliable and stable, and requires less investment.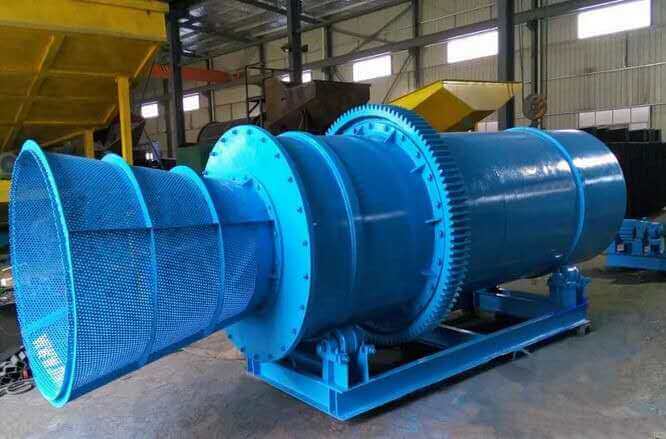 Rotary scrubbers are used to clean all kinds of difficult-to-wash large ore. There are two types of washing machines: cylinder and cylinder plus screen. It can divide the washed material into two grades, +40mm and -40mm, and the -40mm can be scrubbed further by a double spiral trough washing machine to separate the material into two grades, +2mm and -2mm, improving the washing efficiency. Approximately 98% of this combination is illegal and effective for refractory ores.
Working principle
The Rotary drum scrubber is supported by four tugs, and the cylinder body rotates at a low speed with the motor and reducer driving the large and small gears. In the rotating drum, the ore containing mud mass and sand powder is continuously carried, thrown, and stirred by a stirring device with a fixed angle installed in the cleaning drum. In moving to the discharge end, it is continuously washed by the high-pressure water column in either a forward or reverse direction. Sewage containing sludge is discharged through the sewage device at the discharge end, and after sedimentation in the sedimentation tank, it is ready for rewashing and recycling.
Model
Drum

Size(m)

Screen

Mesh(mm)

Feeding

Size(mm)

Capacity

(t/h)

Speed

(r/min)

Power

(kw)

Water required(m3/h)
Weight(t)
RC1030
1*3
≥5
≤100
6-10
25-28
15
1.5-4
4.8
RC1230
1.2*3
≥5
≤100
10-15
23-25
18.5
1.5-4
5.8
RC1545
1.5*4.5
≥5
≤150
15-25
18-22
30
1.5-4
6.9
RC1560
1.5*6
≥5
≤150
20-50
18-22
37
1.5-4
8.3
RC1845
1.8*4.5
≥5
≤170
50-80
20-21
45
1.5-4
11.8
RC1860
1.8*6
≥5
≤170
80-100
20-21
45
1.5-4
12.8
RC2060
2.0*6
≥5
≤210
100-120
19-20
55
1.5-4
14.8
RC2265
2.2*6.5
≥5
≤230
120-140
19-20
55
1.5-4
16.5
Drum washing machines have a reasonable structure, a long service life, and are easy to use. A drum washing machine we produce has an enclosed structure, and the essential transmission components, such as the impeller, are isolated from the water, so there is no need to worry about bearing wear caused by immersion in water.
We can provide you with more information about Gold Ore Plant Solution. If you have any questions, please contact: Whatsapp:+8613319277356, Email:[email protected]