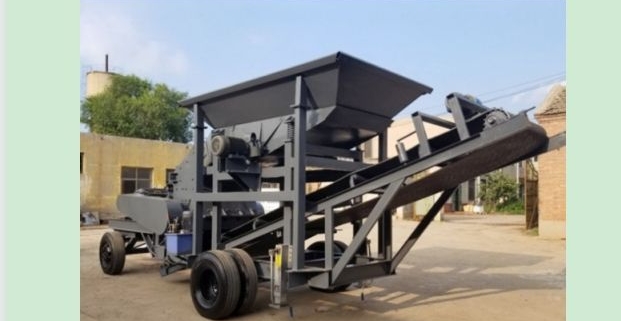 Dasen Mining manufactures mobile complete crushing plants, Mobile Jaw Crusher+Hammer Crusher Plants, and mobile construction waste crushers for various complex construction sites.
A small mobile sand-making production line of the small crushing plant is a small mobile sand-making machine integrated with feeding, sand making, screening, conveying, and other systems to make a complete small mobile complete crushing plant line. The plant can crush granite, river stones, pebbles, bluestones, and other ores into 0-5mm and 5-10mm sand. Customers can sell the finished product at a good price because the particle size and shape are controllable.
Gravel production line components:
Using the vibrating feeder, large pieces of stone are evenly fed into the jaw crusher through the silo, and the coarsely crushed stone is then sent to the impact crusher by belt conveyor for further crushing. A belt conveyor sends the finely crushed stone to a vibrating screen for screening, separating various types of stones based on their specifications. The stones that meet the particle size requirements are sent to the finished product stockpile by the finished product belt conveyor; the stones that do not meet the particle size requirements are returned to the impact-type crusher, where they have crushed again, making a closed circuit. Based on the user's needs, the particle size of the finished product can be combined and classified. Auxiliary dust removal equipment can be installed to protect the environment.
The construction industry has rapidly developed in recent years, resulting in an increase in demand for finished sand, which has led to increased investment in sand-making mobile crushing plants. It is at this point in the process that the problem arises. The most common question customers ask is "how much is the sand-making machine?". Today, we'll give you a brief overview of the Mobile Jaw Crusher+Hammer Crusher Plant Price.
Jaw Crusher + Hammer Crusher Mobile all-in-one machine.
FIRST SET:
Processing capacity 10-20t/h.
Feeder 0730, power 1.1kW,
Jaw crusher PE220×350, power 11kW,
Hammer crusher PcB400.600 type, power 30 kW,
Belt machine 650×6000. Power 3 kW,
650×3000 discharge belt, power 3 kW,
Control cabinet,
mobile frame
fixed leg
motor version
Offer $23,000. FOB.
It is necessary to have experience in the field of crushing and screening when designing the crushing and screening plant. With 10 years of experience, you can trust our engineers with your investments. For us, customer satisfaction is the most important goal. We are committed to designing the appropriate plant for each of our customers! Beginning with the design and ending with after-sales services, we support you at every stage of the purchasing process.
We can provide you with more information about wholesale mini crusher plants. If you have any questions, please contact: Whatsapp:+8613319277356, Email:[email protected]
https://dasenmining.com/wp-content/uploads/2022/12/微信图片_20221205101249.jpg
363
621
Dasen
https://dasenmining.com/wp-content/uploads/2021/06/logo.png
Dasen
2022-12-05 01:55:39
2023-03-03 02:53:02
Wholesale mini mobile crushering and screening plant