Mineral processing has long used spiral chutes as a technology. It combines the characteristics of a shaking table and centrifugal concentrator, making it the best equipment for mining and mineral processing, especially for placer mining on seashores, riversides, sand beaches and streams. for the ideal. However, the old equipment also has its technical limitations. As technology develops, spiral chute mineral processing equipment gradually shows its old state, cannot keep up with the pace of technological development, and gradually falls behind, and is even no longer seen in the mineral processing industry.
Describe the problem:
After research by DasenMining's technical team, we found out why this spiral chute lags behind. The reason is that the spiral glass fiber-reinforced plastic working trough is too thick, and it will inevitably deform due to internal stress under the action of thermal expansion and contraction. An old-fashioned beneficiation spiral chute has a congenital defect that prevents the working channel from returning to its original shape after returning to temperature.
As for why the spiral chute of Dasen Mining is more efficient than its similar products, it is actually because our spiral chute not only effectively solves the problem of chute deformation, but it also adds some other technical means to make its effect even comparable to that of Nelson centrifuges and shakers!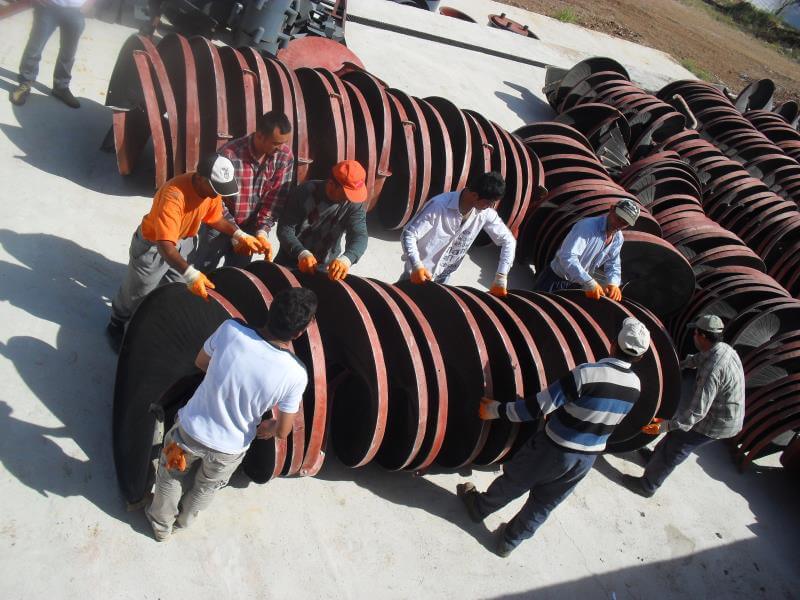 Additionally, the new type of beneficiation spiral equipment has the following characteristics:
01
By adopting a modular design, the equipment reduces long-distance transportation costs (including international sea freight) and can be shipped in parts. During mining, it is assembled on-site, which makes it convenient and simple. After 2 hours of training, local workers can master the assembly method of the entire spiral concentrator and complete the qualified equipment assembly;
02
It borrows the principle of grooving on the shaking table and applies it to the surface of the spiral working groove (protected by patented technology), which greatly enhances the beneficiation effect;
03
Polymer engineering plastic material, is not easy to deform, is light in weight, wear-resistant, and has a service life of more than 10 years;
04
The gravity beneficiation system is responsible for the environment. It is a pure physical beneficiation technology without the use of chemicals, and most of the water can be recycled.
For more information kindly click on the link or send us: Whatsapp:+8613319277356, Email:[email protected]
https://dasenmining.com/wp-content/uploads/2023/02/螺旋溜槽-3-scaled.jpg
1920
2560
Dasen
https://dasenmining.com/wp-content/uploads/2021/06/logo.png
Dasen
2023-02-21 08:32:11
2023-02-21 09:09:37
What is the secret to beneficiation spiral chutes?