Introduction: In the mining industry, efficient ore processing technology plays a vital role in maximizing resource utilization and minimizing environmental impact. This blog aims to provide a comprehensive overview of the advantages of tungsten, tin, tantalum, and niobium ore processing technology, highlighting its efficient mineral recovery, high-quality concentrate production, minimal environmental footprint, and cost-effectiveness.
Efficient Mineral Recovery: Tungsten, tin, tantalum, and niobium are valuable minerals widely used in various industries. Effective ore processing technology ensures the efficient recovery and extraction of these minerals. State-of-the-art processing methods, such as crushing, grinding, and flotation, are employed to liberate and concentrate the desired minerals from the raw ore. Through these processes, the valuable minerals can be efficiently recovered, leading to increased productivity and resource utilization.
High-Quality Concentrate Production: The quality of the concentrate plays a crucial role in determining the economic value of the final product. Tungsten, tin, tantalum, and niobium ore processing technology focuses on the production of high-quality concentrates. The beneficiation process aims to remove impurities and increase the concentration of the target minerals. By utilizing advanced techniques, such as gravity separation, magnetic separation, and flotation, the final concentrate can achieve high purity and meet the strict quality requirements of downstream industries.
Minimal Environmental Footprint: Sustainable mining practices demand the reduction of environmental impact throughout the ore processing cycle. Tungsten, tin, tantalum, and niobium ore processing technology prioritizes minimizing the environmental footprint. Innovative technologies, including water recycling systems, dust suppression measures, and tailings management strategies, are implemented to reduce water consumption, air pollution, and land disturbance. By adopting environmentally responsible approaches, the industry strives to preserve ecosystems and promote sustainable development.
Cost-Effectiveness and Economic Viability: Efficiency and cost-effectiveness are crucial factors for any ore processing operation. Tungsten, tin, tantalum, and niobium ore processing technology offers significant cost advantages. Advanced equipment and automation systems optimize production processes, reducing labor and energy costs. Additionally, the high recovery rates and quality concentrates obtained enhance economic viability by maximizing the value extracted from each ton of ore. These cost advantages contribute to the competitiveness and profitability of the ore processing industry.
Highlighting Equipment Manufacturers and Suppliers: To capitalize on the benefits of tungsten, tin, tantalum, and niobium ore processing technology, it is essential to partner with reliable equipment manufacturers and suppliers. One such industry leader is [Company Name], renowned for its expertise in providing innovative and efficient ore processing solutions. With a vast range of state-of-the-art equipment, [Company Name] is dedicated to delivering high-quality products and services tailored to meet specific processing requirements.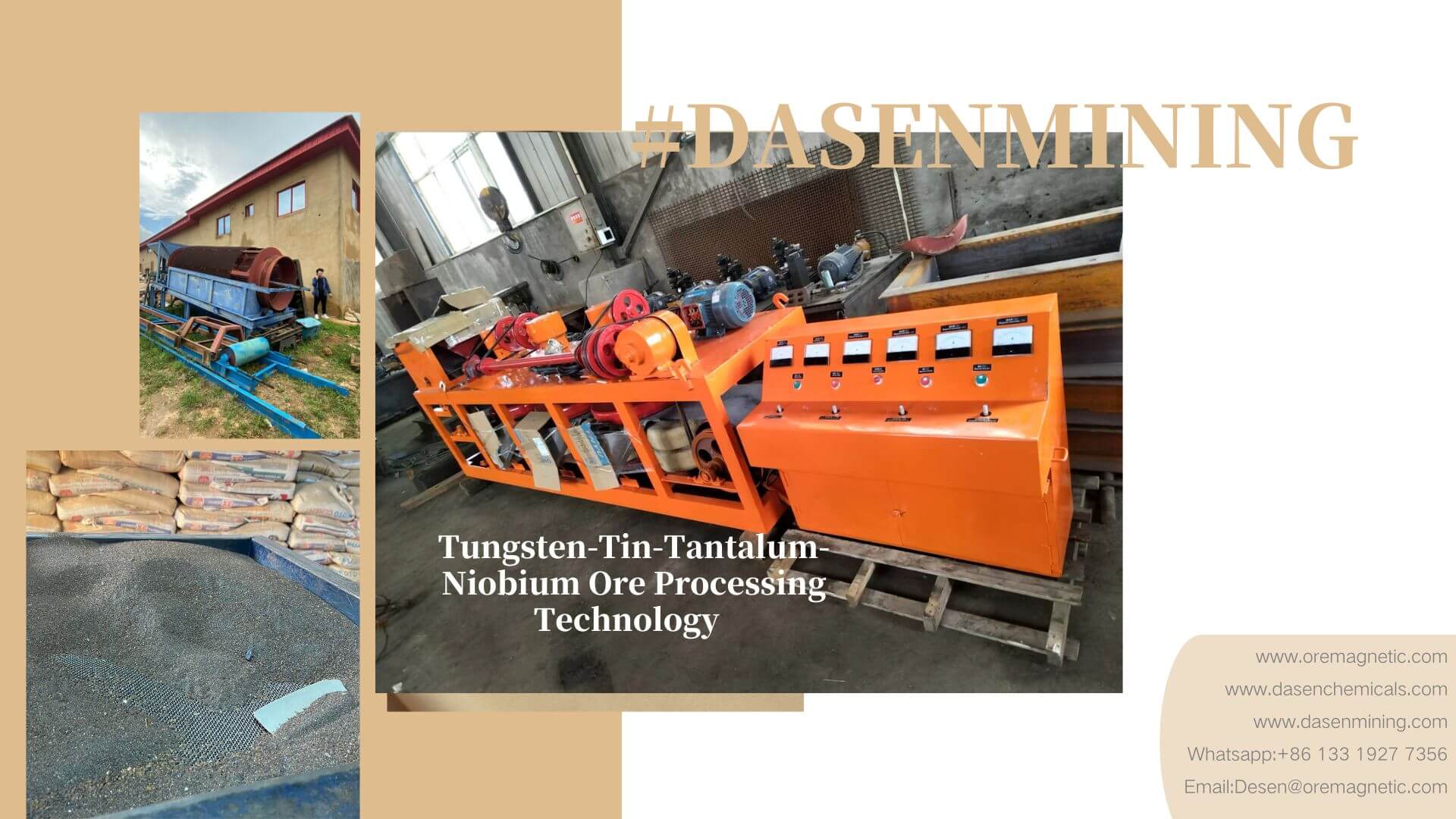 Competitive Pricing: #DASENMINING stands out in the market due to its competitive pricing strategy. By leveraging economies of scale and implementing efficient manufacturing processes, they offer cost-effective solutions without compromising on quality and performance. The company's commitment to customer satisfaction and long-term partnerships ensures that clients receive superior value for their investment.
Contact Us: We welcome you to get in touch with us to explore the possibilities of utilizing our advanced tungsten, tin, tantalum, and niobium ore processing equipment. For further information, please contact us via:
https://dasenmining.com/wp-content/uploads/2023/09/钨锡坦铌.jpg
1080
1920
Dasen
https://dasenmining.com/wp-content/uploads/2021/06/logo.png
Dasen
2023-09-27 03:13:50
2023-09-27 03:13:50
Tungsten-Tin-Tantalum-Niobium Ore Processing Technology and its Advantages