The below pic is a tin ore extraction delivered situation, which is showing some of machines, like three discs electromagnetic separator, ball mill, belt type single disc magnetic separator etc.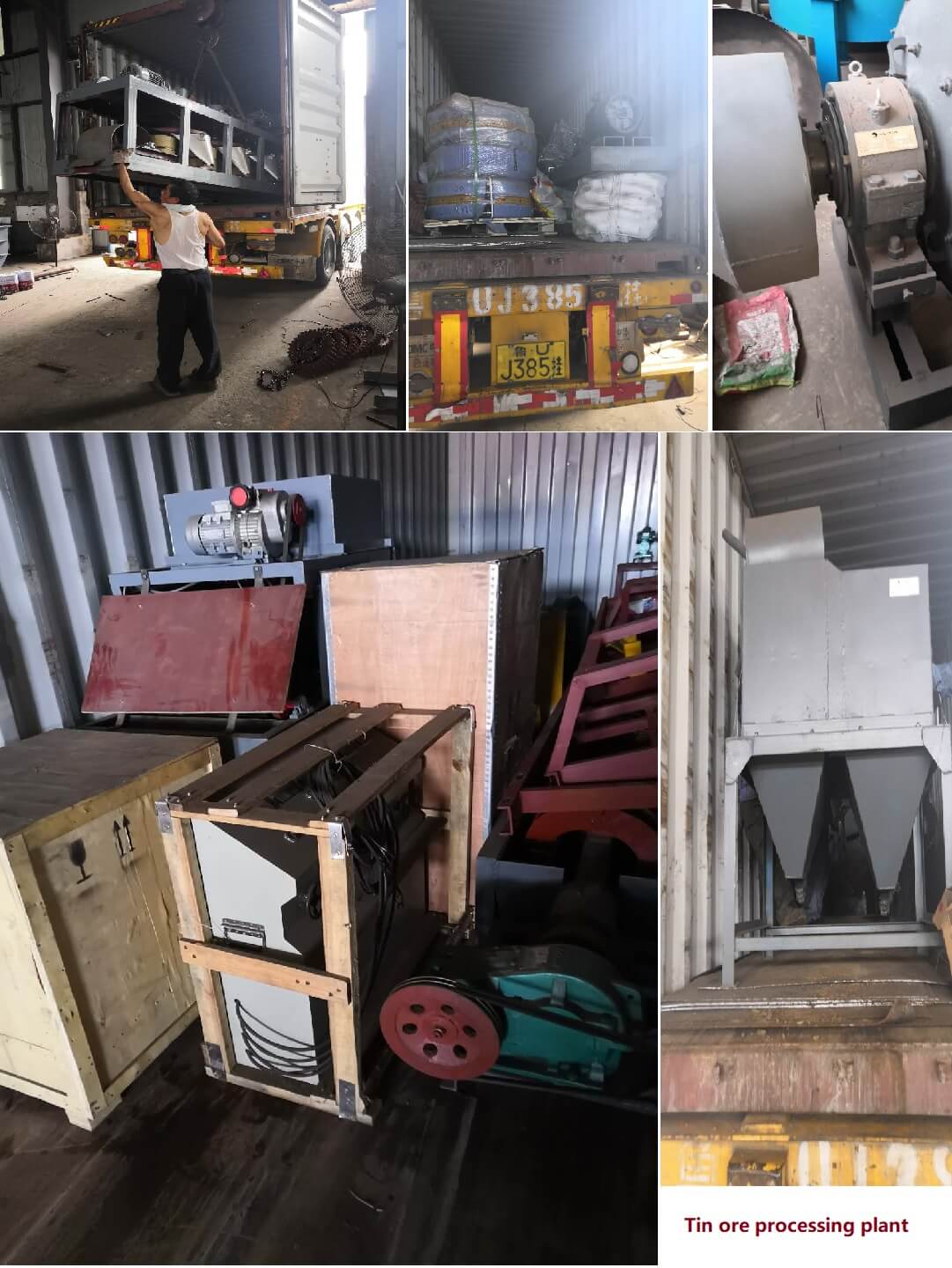 The content of tin ore in placer ore is very low, so screening, washing, and gravity separation are usually used to separate placer tin ore. To realize the purification of placer tin ore, a series of placer tin ore beneficiation equipment must be combined with gravity separation and beneficiation processes [1 placer tin ore screening equipment, 2 placer tin ore washing equipment, and 3 placer tin ore gravity separation equipment]. Placer tin ore beneficiation is relatively simple.
In general, simple screening and gravity separation lead to good beneficiation indexes. However, for placer tin ore containing low monomer dissociation, grinding, secondary gravity separation, and tailings recovery processes are also necessary to ensure the grade of concentrate and the recovery rate of the whole process.
Generally, placer tin ore beneficiation equipment works on the gravity separation principle, which separates tin and waste rock based on the difference in specific gravity. Using gravity separation methods and equipment can provide a good beneficiation effect as there is a large proportion difference between tin and waste rock in tin placer ore. It has the advantages of high efficiency, energy saving and environmental protection, small equipment investment and low operation cost. It is an ideal choice for tin placer ore beneficiation.
In tin ore separation, the flow generally includes crushing-grinding-magnetic separating etc. If you re planning to start a tin ore processing project and want to know more about it, pls feel free to contact us. Our technical team will give you the most suitable design based on your raw ore.
We can provide you with more information about tin ore extraction. If you have any questions, please contact: Whatsapp:+8613319277356, Email:[email protected]
https://dasenmining.com/wp-content/uploads/2021/09/Tin-ore-separation.jpg
1440
1081
Dasen
https://dasenmining.com/wp-content/uploads/2021/06/logo.png
Dasen
2018-08-15 06:32:32
2022-04-12 06:35:11
Tin ore extraction is finished manufacturing and delivered