Description
Vibrating feeder is also called vibrating feeder. In the production process, the block and granular materials can be uniformly, regularly and continuously fed from the storage bin to the receiving device. In the sand production line, it can be crushed. Stone machinery continuously and uniformly feeds and coarsely screens the materials. It is widely used in the crushing and screening combined equipment of metallurgy, coal mine, mineral processing, building materials, chemical industry, abrasives and other industries.
Performance
Vibrating feeder, motor vibrating feeder, stable vibration, reliable operation and long service life; The exciting force can be adjusted, the flow can be changed and controlled at any time, and the adjustment is convenient and stable; The vibration motor is an excitation source with low noise, low power consumption, good regulation performance and no blanking phenomenon.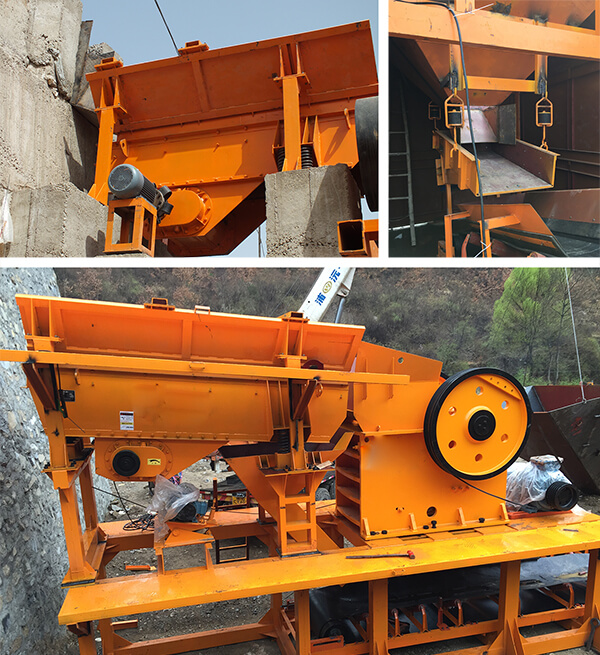 Installation and commissioning
1. If the vibrating feeder is used for batching and quantitative feeding, it shall be installed horizontally to ensure the uniformity and stability of feeding and prevent the self flow of materials. For continuous feeding of general materials, it can be installed by tilting down 10 ". about
Viscous materials and materials with high water content can be installed by tilting down 15 ".
2. After installation, the feeder shall have a traveling clearance of 20mm, the transverse direction shall be horizontal, and the county hanging device shall be flexibly connected
3. Before the air test, all bolts shall be tightened once, especially the anchor bolts of the vibration motor. After continuous operation for 3-5 hours, they shall be tightened again.
4. During commissioning, the two vibrating motors must rotate upward.
5 during feeding, the stability of amplitude, current and noise shall be checked frequently during operation, and the machine shall be shut down in time in case of any abnormality
6. The motor bearing shall be filled with lubricating oil every 2 months, and the lubricating oil shall be filled once a month in high temperature season.