Description
Name: flat chute, gold sluice with carpet,sluice box carpet
Feeding force: 10mm
Weight: 100-600kg
Production capacity: 3-30t / h
Application site: gold sluice with carpet is commonly used in placer gold beneficiation, and is commonly used along with trommel screens to recover gold directly.
Gold panning equipment of sluice gold chute is part of the closed gold panning machine and belongs to the mining equipment industry.
Working Principle:
With chute gold panning, gold and sand have different specific gravities. As the slurry flows through, gold is collected. In the bottom layer, the gold has a large specific gravity difference, while the sand with a small specific gravity floats in the upper layer and is washed away by the water flow. With the new type of gold chute, gold can be extracted using gold panning felt. Gold panning felt only has a 30% net separation rate due to hardening and silting of the chute. In response to these weaknesses, the gold panning chute uses targeted compression – the bottom plate is made of rubber, which uses mechanical torture to compress the sediment plate in order to increase the gold separation rate to over 95%.
5 Major Professional Advantages
The price is low. gold sluice carpet are very inexpensive compared to other gold separation equipment.
Easy installation, strong detachability, and easy transportation.
There is a large processing capacity, and miners moss carpet of various specifications can be customized based on customer requirements.
The plant requires no electricity, which lowers beneficiation costs.
Simple maintenance, only need to change the sluice box carpet, and its service life is longer and its cost is low.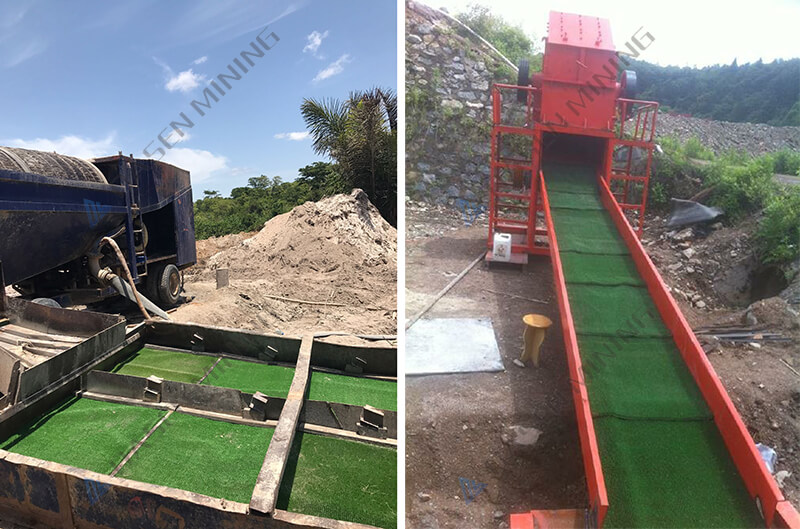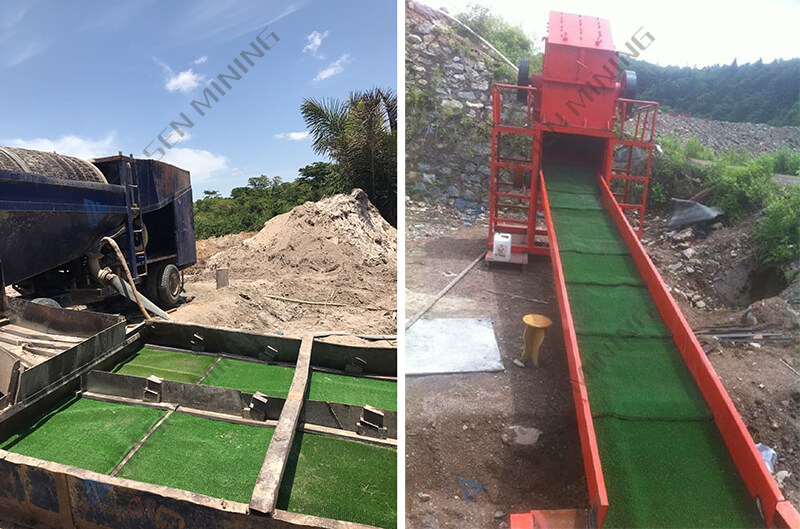 Model
Dimension(m)
Feeding density
Capacity(t/h)
Water

consumption(m³/h)

Vibrating

frequency(r/min)

Power(kw)
DS15-50
1.5*5
30%
60-80
180-240
28-30
3
DS12-40
1.2*3
30%
40-60
120-180
28-30
2.2
What is a sluice box carpet?
Gold panning blankets (gold panning cloth, gold sticky cloth, gold stained cloth and gold stained blanket) are cut according to the width of the chute, and the total length is approximately four meters. The gold content should determine the number of times you should clean it. Put the blanket down in the pool, shake it off evenly to remove the sand and Placer, then rinse it with water and put it through the chute. Put some Placer on the 6-s gold dressing shaking table for selection. One side is Placer, and the other is tailings. Smelting and further processing are normal if you want.
Sluice box carpet are produced as a result of gold mining. The majority of gold users know the role of gold carpet There are many kinds of gold felt, some are called felt, some are called sluice carpet, or sticky gold grass, gold rush, etc.
We can provide you with more information about Gold Ore Plant Solution. If you have any questions, please contact: Whatsapp:+8613319277356, Email:[email protected]