Description
Name: Shaftless trommel screen
Feed particle size: ≤230mm
Production capacity: 10-400T/H
Motor power: 0.75-22kw
Screen size: 3-40mm
Screen material: wire mesh
Uses: classification of dry and wet materials, dragging mud, and dewatering of coarse particles
Composition: drum, frame, funnel, reducer, motor
Compared to shafted drum screens, shaftless drum screens are more efficient. We have developed this special screening equipment for power plants, coking plants, building materials, metallurgy, chemical industry, mining, and other industries. The drum screen eliminates screen sticking when vibrating screens screen wet materials, and improves the screening system's performance and reliability. As well as moist and easily blocked materials such as coal, coal gangue, coke and quicklime, it is suitable for screening materials of various properties. Typically, the screened product has a size of 100mm, a middle size of 10-50mm, and a fine size less than 3mm. Most users highly praise this product.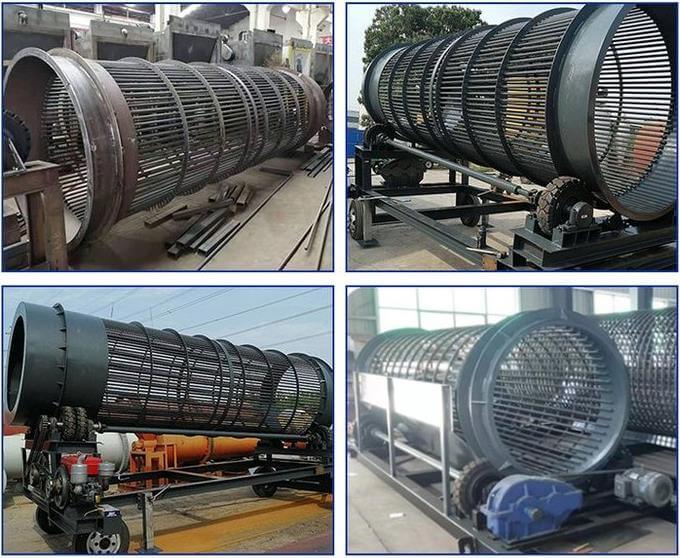 Depending on the material, shaftless roller screens need to be installed obliquely. Generally, the angle is between 5 degrees and 20 degrees. There are several types of devices that can be used to drive shaftless roller screens, including motors, diesel engines, and generators. By entering the cylinder through forklifts, excavators, conveyors and other means, the materials overturn and roll in the cylinder, which ejects the materials stuck in the screen hole and prevents it from blocking. It is possible to customize and screen shaftless roller screens in a variety of ways. Shaftless roller screens can be made into mobile devices such as tire mobiles and crawler mobiles if you need to transfer frequently. In order to prevent environmental pollution, the cover can be densified for protection, which will well prevent screening dust. In addition to mine quarries, shaftless roller screens can be used on construction sites as well. In comparison to traditional roller screens, shaftless roller screens offer a number of advantages. Among the components of the equipment are a motor, a reducer, a screen body, reinforcing rings, support wheels, frames, and hoppers. There are almost no restrictions on the types of materials that can be screened with shaftless roller screens. In addition to improving the output and screening accuracy of traditional screening, shaftless roller screens are safer and last longer.

Advantages:
Low speed and stable rotation, high reliability, low maintenance rate, long service life of the whole machine, does not jam, suitable for screening wet materials.
The screen has a large surface area, alternates contacts with materials, and has a long overall lifespan.
Low noise, fully enclosed, no dust pollution.
To further improve the performance, a high-frequency and low-strength excitation mechanism was developed, which prevents blocking, increases the screening speed of the half area screen, and improves the output.
Strike and anti blocking mechanism can be set to further prevent blocking.
A screen cleaning mechanism can be set to forcibly discharge the residual blockage before shutdown.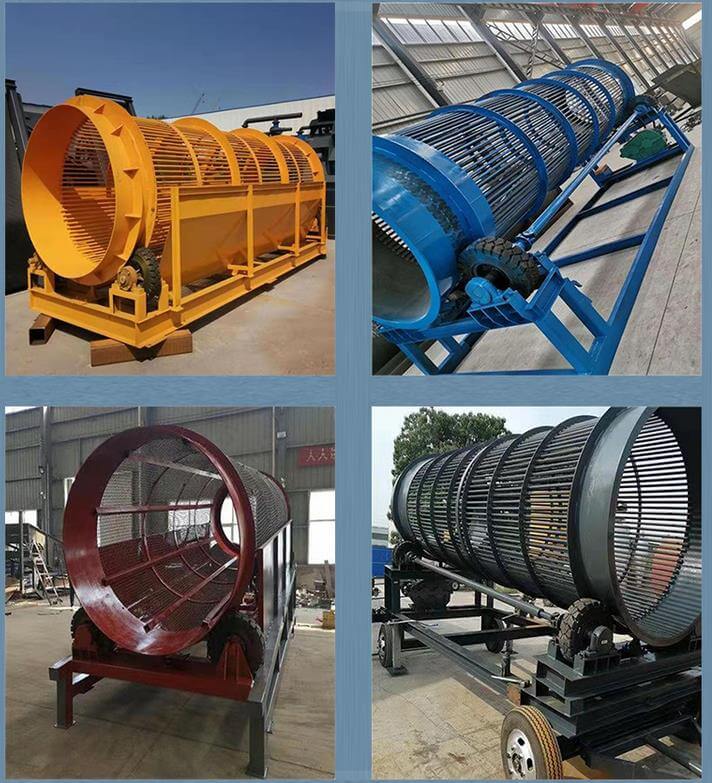 Easy disassembly and assembly
The high integrity of the equipment is convenient for storage or transfer transportation at the construction site. The only disassembled parts are the finished stacking belt conveyor. Loosen the bottom fixing bolts and hanging wire ropes, and plug the finished belt conveyor into the bottom of the main frame.

We can provide you with more information about Gold Ore Plant Solution. If you have any questions, please contact: Whatsapp:+8613319277356, Email:[email protected]