Description
Name: Self-unloading permanent magnet iron remover, Permanent magnet separator
Adaptable bandwidth: 500~2400mm
Magnetic field strength: 50mt~150mt
Motor power: 1.5~7.5kw
Iron removal weight: 0.1~35kg
Dry and wet type: dry iron remover
Equipment model: RCYD series
Scope of application: The process is used to remove iron from any material before the crusher and on the conveyor belt, and can be applied in harsh environmental conditions.
Structure: Mainly composed of frame, cycloidal pinwheel reducer, chain, sprocket, roller, and steel belt with a scraper.
This self-unloading electromagnetic iron remover (Permanent magnet separator)is based on the RCYD series electromagnetic iron remover and contains an automatic iron-displacing mechanism. It has a high iron content, corrosion resistance, continuous work, and can automatically unload iron without power loss. It is mainly used for materials with high iron content. After the ferromagnetic substance is adsorbed, the ferromagnetic substance is discharged from the iron remover through the iron unloading mechanism to achieve automatic iron removal.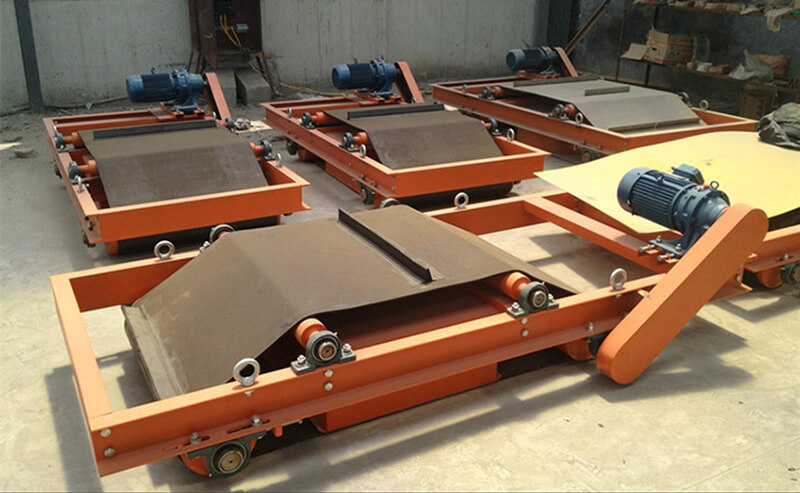 Combined with belt conveyors, vibrating conveyors, and other equipment, these products can effectively remove ferro-magnetic substances mixed in bulk materials with a weight of 0.1-30kg. In addition to improving and purifying raw materials, it can also be used to recover various ferromagnetic substances, which protect mechanical equipment such as grinders and crushers from damage and wear.
Working principle
Approximately 0.1-0.36 kg of ferromagnetic impurities mixed in the granular material will be sucked up by the self-unloading permanent magnet iron remover when it passes directly over it. Whenever the magnetic material passes through the non-magnetic area, it is scraped off with the iron parts on the belt and thrown into the iron collecting box, which achieves the purpose of continuous automatic iron removal.
Advantage:
By using computer simulation, the circuit is designed with a perfect double magnetic pole structure, high magnetic field strength, large gradient, and high suction force.
With the high-performance NdFeB magnetic source, the magnetic energy product is high, it is hard to demagnetize, and the demagnetization doesn't exceed 5% after eight years.
With its waist drum type drum structure, automatic deviation correction, fully sealed bearing seat, and good sealing performance, this drum can withstand harsh environments.
By automatically unloading iron, the belt can maintain continuous operation over a long period of time without requiring any maintenance.
Interlocking the control part with the belt conveyor allows for on-site hands-on operation and centralized control.
Model
Adaptive bandwidth

mm

Rated lifting height

h=mm

Material thickness

≤mm

magnetic field intensity

≥mT

Driving power

≤KW

weightkg
Overall dimension

mm

A
B
C
E
D
RCYD(C)-5
500
150
80
60
1.5
750
1900
735
935
753
950
RCYD(C)-6
600
175
120
60
1.5
920
2050
780
1030
753
1100
RCYD(C)-6.5
650
200
150
70
2.2
1200
2165
780
1080
888
1200
RCYD(C)-8
800
250
200
70
2.2
1400
2350
786
1280
1088
1300
RCYD(C)-10
1000
300
250
70
3.0
2120
2660
920
1550
1335
1400
RCYD(C)-12
1200
350
300
70
4.0
3350
2900
970
1720
1515
1550
RCYD(C)-14
1400
400
350
70
4.0
4450
3225
1050
1980
1755
1800
RCYD(C)-16
1600
450
400
70
5.5
6200
3420
1180
2210
1850
1950
RCYD(C)-18
1800
500
450
72
7.5
8100
3580
1210
2450
2130
2200
RCYD(C)-20
2000
550
500
72
11
9700
3800
1300
2700
2410
2400
Note: (1) This device's magnetic intensity is higher than the national standard T1, T2, T3 magnetic field, the magnetic intensity ratings were hanging above 90mT, 120mT, 150mT.
(2) The equipment for each model size can be made according to specific user needs.
We can provide you with more information about Gold Ore Plant Solution. If you have any questions, please contact: Whatsapp:+8613319277356, Email:[email protected]