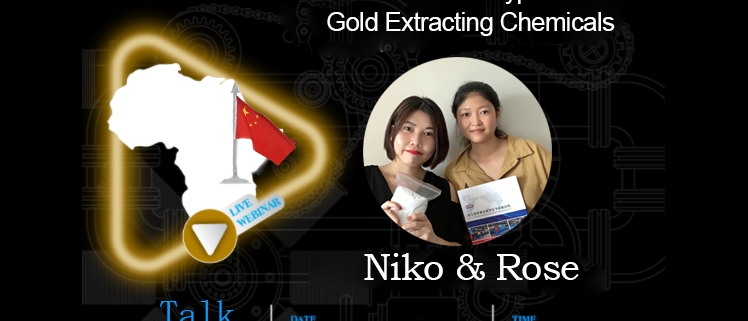 Rose: Hi, everyone, this is Dasen Mining Machinery. I am Rose, this is Niko, today, we will talk about the environmental type gold extracting chemicals.
Rose: Miss Niko, could you give us a brief introduction of this chemicals you take.
Niko: Yes, of course. This chemicals is mainly working on gold leaching, which is composed by some non-toxic contents. It has been tested and identified by the authoritative testing center. It is a common chemicals, environmental and safe.
Rose: That sounds good, how about its leaching rate?
Niko: It can effectively leach gold and silver from ore with high leaching rate. For the easy-leaching ore, its effect is similar to that of sodium cyanide.
Rose: Ok. How about the leaching efficiency? Is it fast?
Niko: Yes. Compared with sodium cyanide, the leaching cycle is shorter (the leaching time can be shortened by 15-30%), and the recovery is faster.
Rose: Good, is it easy to use?
Niko: Yes, the product is easy to dissolve in water, and the use method is basically the same as that of sodium cyanide.
Rose: How about the use cost?
Niko: Due to that this chemical is safe and environmental, they can effectively reduce the high cost of purchase, transportation, warehousing, storage, safe and environmental facilities etc, caused by the use of sodium cyanide.
Rose: OK. How about the transportation and storage of this chemicals?
Niko: This chemicals is non flammable, non explosive, non oxidant hazard, non radioactive and no other transport hazard, and can be transported by road, railway, sea and air.
And, this chemicals is easy to absorb moisture, should be moisture-proof, waterproof, sealed, placed in a cool and dry place sealed storage.
Rose: Do u supply any sample?
Niko: Yes, we supply 1kg sample for free to all oversea customers. The pics are the gold leaching cases of using this leaching chemicals.
Rose: Looks great.
This is all in today's video, thanks for your watching. See you next time. Bye…
Niko: Bye
if you are interested in our products, welcome to visit our company. we are looking forward to your arrival. More info: environmental type gold extracting chemicals.
24-hour hotline: +8613319277356(WhatsApp)
Email:[email protected]
https://dasenmining.com/wp-content/uploads/2021/08/1.jpg
571
748
Dasen
https://dasenmining.com/wp-content/uploads/2021/06/logo.png
Dasen
2021-08-19 07:38:51
2022-04-06 06:33:04
New video:Environmental Type Gold Extracting Chemicals