Gravity beneficiation equipment like gravity spiral chute have high utilization rates and good recovery effects in the separation of titanium, iron, manganese, tungsten, tin, gold, quartz sand, zirconium, and other minerals, so they are popular among many users.
What is the pitch of a spiral chute? Dasen Mining will explain it in this issue. What effect does pitch have on the Beneficiation effect?
Pitch is the distance from the top to the bottom of a single blade of a spiral chute. When the distance is greater, the pulp swirl speed is faster, and the processing capacity is greater. With a smaller distance, the pulp flow rate will be slower and the processing capacity will be smaller. Spiral chutes with large screw pitches are generally best suited for rough separation of materials or purification of high-grade minerals. The spiral chute with a small screw pitch is well suited for the separation of low-grade fine-grained minerals, and multiple cycles are required for cleaning and scavenging operations.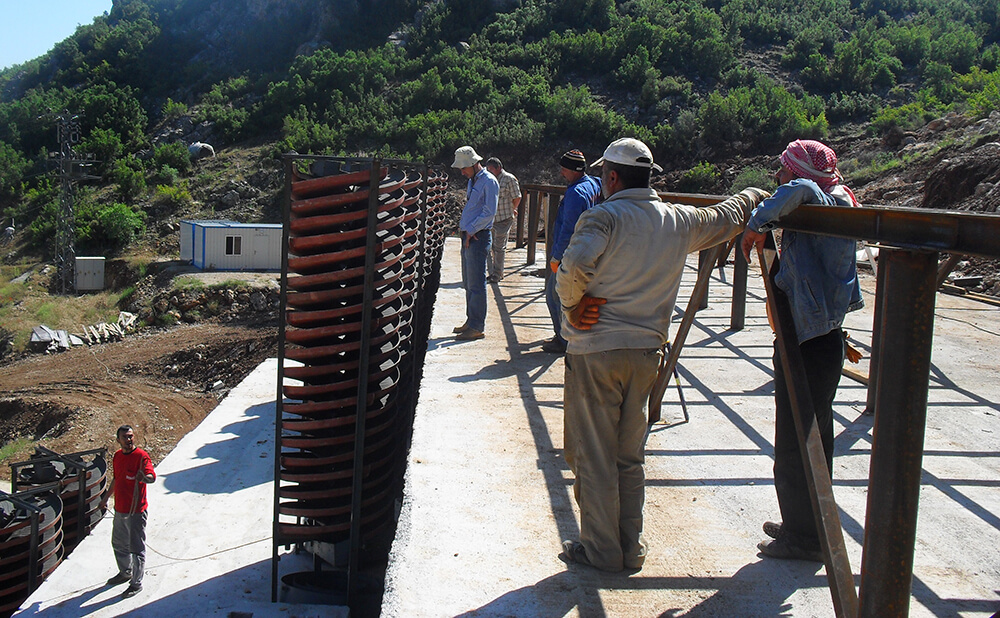 What pitch can be selected for various types of spiral chute?
Model
5LL-1500
5LL-1200
5LL-900
5LL-600
5LL-400
External diameter(mm)
1500
1200
900
600
400
Pitch(mm)
540,720
900,720,540
675,540,405
450,360,270
240,180
Feed particle size (mm)
0.3-0.02
0.3-0.03
0.3-0.03
0.2-0.02
0.2-0.02
Feed concentration (%)
25-55
25-55
25-55
25-55
25-55
Production capacity (T / h)
8-6
4-6
2-3
0.8-1.2
0.15-0.2
Overall dimension

Length (mm)

1560
1360
1060
700
460
Overall dimension

Width (mm)

1560
1360
1060
700
460
Overall dimension

Height (mm)

5230
5230
4000
2600
1500
Weight (kg)
800
600
400
150
50
Few manufacturers will make all specifications, and most manufacturers only make a few sizes and pitches.
Dasen mining machine, a manufacturer and exporter of professional gravity separation equipment, is mainly engaged in manufacturing and exporting 6S shaker, spiral chute, jig, centrifuge, and other gravity separation equipment. Many customers with varying needs have accumulated after decades of accumulation. Therefore, friends in need can send us private messages or letters for the production of spiral chutes with various diameters and pitches.
Learn more about beneficiation products.Whatsapp:+8613319277356, Email:[email protected]
https://dasenmining.com/wp-content/uploads/2022/03/spiral-chute-conveyors.jpg
614
819
Dasen
https://dasenmining.com/wp-content/uploads/2021/06/logo.png
Dasen
2022-03-07 02:31:53
2022-03-07 02:31:53
Gravity spiral chute pitch affects the Beneficiation effect, right?