1. Mineral environmental protection gold extraction agent
My environmental gold agent is a kind of wet leaching technology for gold (pool leaching, heap leaching, carbon paste) research and development of efficient reagent, gold ore environmental gold agent both in immersion type gold deposits of generality, at the same time for copper, lead, zinc, arsenic, carbon and other serious interference or consumption of element has a certain anti-interference ability, The gold index can be further improved by using the combination of "mineral gold extraction agent + special leaching agent".

2. Eco-friendly gold extractors Instructions
Scope of application: it is suitable for heap leaching, pool leaching, and stirring leaching of carbon slurry of gold oxidized ore.
Main ingredients: sodium oxide, iron, sulfur, ammonium, chloride, etc.
Product form: white powder solid.
Dosage of reagent: 100-1500 g/ton ore.
Method of use: Heap leaching process: the solution of 0.03-0.1% mass concentration is prepared with clean water for spraying.
Stirring leaching process: it can be configured to add 10%-15% solution, or directly added to the stirring tank in the form of solid, the concentration of the reagent in the leaching pulp is generally in the range of 0.03-0.1%.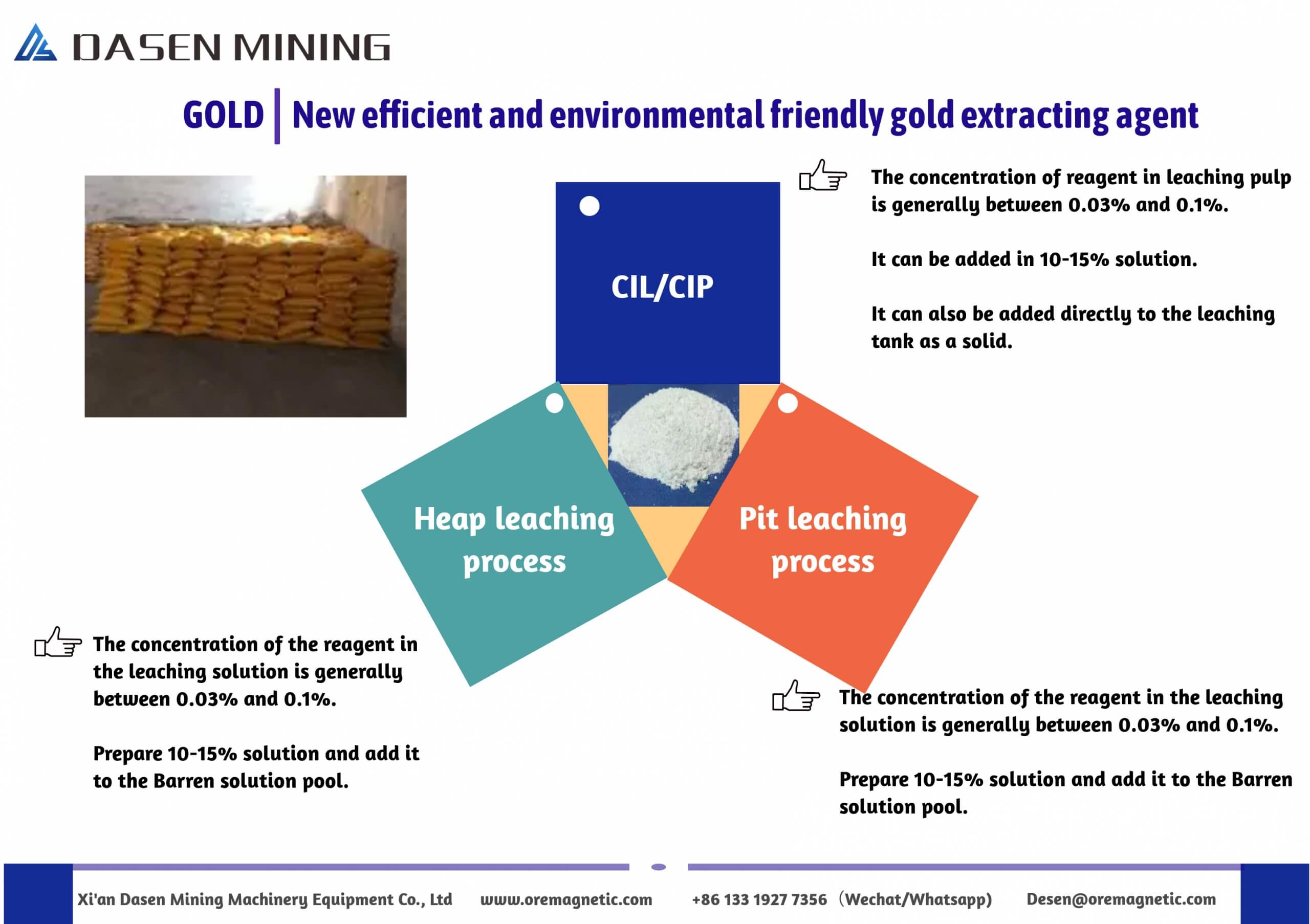 We can provide you with more information about Eco-friendly gold extractors. If you have any questions, please contact: Whatsapp:+8613319277356, Email:[email protected]
https://dasenmining.com/wp-content/uploads/2021/09/C-6.png
801
1080
Dasen
https://dasenmining.com/wp-content/uploads/2021/06/logo.png
Dasen
2021-09-23 09:06:21
2022-03-31 03:22:31
Eco-friendly gold extractors