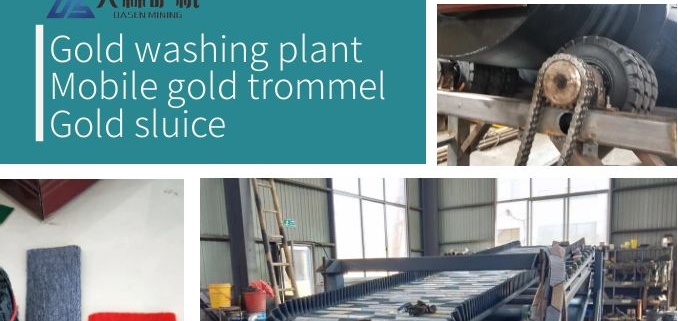 It has become the mainstream of the beneficiation industry to develop technology and placer mining equipment, so what are the beneficiation methods and beneficiation equipment for alluvial gold mining?
Dasen mining undertook the placer gold beneficiation pilot project in West Africa. After testing the ore samples, the beneficiation laboratory obtained that the placer gold deposit contains 22G / T gold, the metal minerals are mainly magnetite and natural gold, and the non-metallic ores are mainly quartz and feldspar. According to the nature of the ore and the actual situation of the concentrator, Dasen mining finally decided to recover the gold ore by gravity separation.
The test shows that 380.31g/t gold concentrate can be obtained by direct gravity separation of the placer gold deposit, and the recovery is 98.78%; 93.46g/t gold concentrate can be obtained by gravity separation of placer gold after grinding operation, and the recovery rate is as high as 99.34%. The gold recovery rate of this process is higher than that of direct gravity separation process.



We have transported a mobile drum washing machine, mobile drum screen, fully automatic gold separation chute and other equipment
Most placer gold deposits contain very little gold, which has to be beneficiated and enriched with high-efficiency, energy-saving and other gold separation equipment. The gravity separation method is one of many beneficiation methods with energy-saving, high efficiency, environmental protection, and other beneficiation advantages. Placer mining equipment is also very effective for the separation of placer gold deposits. The main method for beneficiating placer gold deposits is gravity separation.
According to the type of gold mine, different cleaning equipment should be selected. If a gold mine consists of only one precious metal, gravity separation equipment can be used for cleaning, and if the mine contains other precious metals that must be recovered at the same time, other methods can be used for recovery as well.
We can provide you with more information about the gold gravity processing plant. If you have any questions, please contact: Whatsapp:+8613319277356, Email:[email protected]
https://dasenmining.com/wp-content/uploads/2021/09/西非-印尼-砂金.jpg
1010
678
Dasen
https://dasenmining.com/wp-content/uploads/2021/06/logo.png
Dasen
2021-09-09 07:54:00
2022-04-01 07:47:18
300 Ton per hour placer mining equipment ship to West Africa