Mixture of Few Copper Wire and Lots of Plastics
【Project Time】05th, Dec.2018
【Country】Poland
【Equipment list】Double-roll separator, Four-roll separator, etc.
Recycling is something we've been discussing, and our Polish customer has given us pictures of how aluminum is separated from plastic. We analyzed these samples to determine if they contain copper, and according to this characteristic, it is most suitable for our double-roll separators and four-roll separators to process.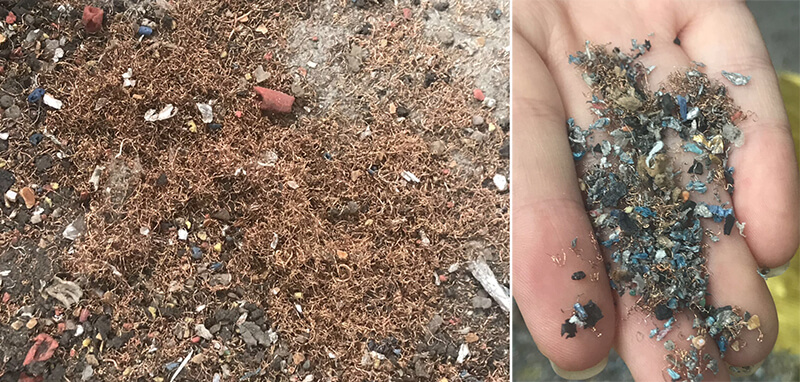 Both pieces of equipment separate aluminum, copper, and plastic from aluminum-plastic materials. The material diameter is greater than 2 mm, the non-ferrous metals in the mixed materials are separated by an electric separator, the non-ferrous metals copper and aluminum bounce out with force, and the non-magnetic metal materials and plastics fall freely.
In the aluminum-plastic mixture, the double-roll separator and four-roll separator can effectively and continuously separate the non-ferrous metals copper and aluminum, resulting in the recycling of waste materials and preventing environmental pollution.
Dasen mining selected two separators with the advantages of high separation accuracy, large processing capacity, stable equipment, and low failure rates.

Polish authorities have received the equipment, which was packaged and shipped.
Operation:
During the aluminum-plastic crushing and sorting process, the equipment uses the method of physical crushing and electrostatic separation. The medicine board is first crushed into pieces less than 10mm by a knife-cutting crusher, followed by a high-speed water-cooled turbine crusher to refine the pieces. The aluminum and plastic mixtures are packed in a mixture of aluminum and plastic, and the materials that meet the requirements are screened by rotary vibrating screens. Aluminum and plastic are separated using an electrostatic separator, and unqualified materials are returned to the mill for further pulverization. A very low percentage of aluminum and plastic is lost, and 99% of aluminum is reused. Physical separation is achieved using this equipment completely dry, so there is no secondary pollution of the environment, and there is a good economic and social benefit to using it.
Dasen Mining strictly manages every project, and the whole process is followed up by a special person to ensure the smoothness of the whole process. If you want to know more information (such as products, parameters, specifications, and processing capacity, etc.), please contact us: WhatsApp: + 8613319277356